Many of us have family members, loved ones or friends who own and enjoy aquariums. With the hustle and bustle during the holidays, one can spend countless hours in the search for the perfect holiday gift. Finding the ideal gift for the aquarium enthusiast can be challenging, but you may want to take some considerations before making that purchase.

Supplies:
Many aquarists utilize specific brands of filter cartridges, water conditioner, fish foods, salt mixes and reef supplements.
Before purchasing any of these consumables, try to speak to the recipient's close friend, relative or spouse so that you can obtain the exact model number, brand, or type of the item they use to maintain their home aquarium.
Decorations:
Most aquarists are very picky about how they prefer to have their tanks look in regards to aquarium decorations. If you have a good idea of how the aquarium looks with the color scheme and type of foundation, such as rockwork or ornaments, finding something similar that goes along with the "theme" will greatly reduce the likelihood of the recipient being disappointed. HOT NEW DECORATION: Eshopps Glow-in-the-Dark Floating Lionfish
Books and Reference Materials:
Every aquarist can always use another book! Most aquarists are hungry for knowledge on how to better care for their aquariums or the inhabitants they maintain or are looking to purchase. There are plenty of great books and publications on aquarium keeping whether it is saltwater or freshwater. HOT NEW BOOK: The Coral Reef Aquarium: From Inception to Completion
Hi-Tech Equipment:
Purchasing an expensive filter or lighting system can be a daunting task even for the seasoned veteran aquarist. These types of gifts are very challenging to purchase, and if you want to spend some dough on a high-end gifts up these lines, a gift certificate is the very best way to appease the recipient. By adding a nice note along with the gift certificate as to what your intentions are, you can be assured that your money will be well spent on just what the aquarium owner really wants. HOT NEW EQUIMPMENT: LiveAquaria Select Panorama Pro LED Fixtures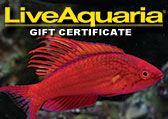 Fish or Coral:
The biggest mistake I have seen over the years is people trying to purchase fish as a holiday gift. Oftentimes the gift of any live animal, including fish, corals, or aquatic invertebrates, just plain doesn't work out. Many fish are not compatible with each other, and your recipient may be particular about the type of corals he has in his aquarium. Once again, a gift certificate is a better choice. It will eliminate any possibilities of incompatible fishes or other aquatic animals.
We offer gift certificates in electronic or paper form, and can be used on either DrsFosterSmith.com or LiveAquaria.com.

E-Gift Certificates can be purchased as late as 9am, CST, Sunday, December 23rd, for delivery by Christmas Day. Happy Holidays!
---