LiveAquaria.com Director Kevin Kohen recently answered a few questions about our business for a student project and we thought we'd share with our readers…
1. How did LiveAquaria get started?
LiveAquaria.com started 2000 in Dayton, Ohio at Pet Warehouse, which was a specialized fish catalog company. In late 2001, Drs. Foster and Smith purchased Pet Warehouse to expand our offerings to a full line Pet Products catalog and Internet Company that also offers quality aquatic life shipped directly to consumer's doors.
2. How long has Drs. Foster and Smith been in business?
Drs. Foster and Smith was founded in 1983, and has continued to grow and expand. Read the full history and watch video interviews from Dr. Race Foster and Dr. Marty Smith here.
3. What is the most difficult thing when dealing with coral?
The most challenging aspects of handling and growing live corals in captivity is providing a stable environment for the animals to flourish. This can be overcome with a properly designed aquarium set up (or coral farm in our case), combined with good maintenance and husbandry techniques, along with well trained and knowledgeable staff who genuinely cares for the corals in our care. We are grateful to have all of these bases covered which has allowed us to be successful and grow our business over the years.
4. Have you ever sold coral for medical or scientific research?
Yes, we have frequently worked with Public and Private Aquaria and research facilities around the Unites States to provide them with quality aquarium animals and live corals utilized for research, breeding initiatives, or display.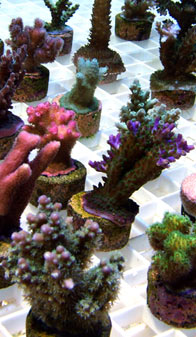 5. How much of your coral comes from propagation either locally or from another business?
Approximately 50% of the individual corals we sell are Aquacultured in-house at our State-of-the-Art Aquaculture Coral and Marine Life facility located in Rhinelander, Wisconsin.
The remainder of the live corals we offer on LiveAquaria.com are wild harvested corals that are legally harvested and shipped from exporting countries around the world. The live coral trade itself is highly regulated and managed by the scientific communities around the world, along with the exporting countries that export animals for the marine ornamental industry, and the USFW (Unites States Fish and Wildlife Service). Furthermore, the stony coral trade is managed by CITES which is the Convention on International Trade in Endangered Species. Stony Corals are considered Appendix II animals, which sets yearly quotas and issues permits for harvest. The majority of wild corals are harvested in areas where the habitat changes frequently, such as areas prone to storm damage from Cyclones or Typhoons, and the reef habitat can change drastically over the years. A reef containing corals with one or two year settlement stony corals, can be wiped out by natural causes when impacted by strong storms or Cyclones, so these areas are the primary collection sites for stony corals.
Additionally, the marine aquarium fishery, which sustainable harvests saltwater fishes, live stony and soft corals and invertebrates, is extremely beneficial to local communities and is a significant source of revenue for fisher folks in certain regions of the world. This important revenue helps feed families that more often than not have no other means to generate income other than fishing for food fish or aquarium fishes, corals and invertebrates. Learn more about the industry behind the hobby here.
We hope this gives you a little insight into our business. Be sure to stop by our LiveAquaria.com Facebook page for more insights and sneak peeks plus interact with other hobbyists.
Related Posts:
---